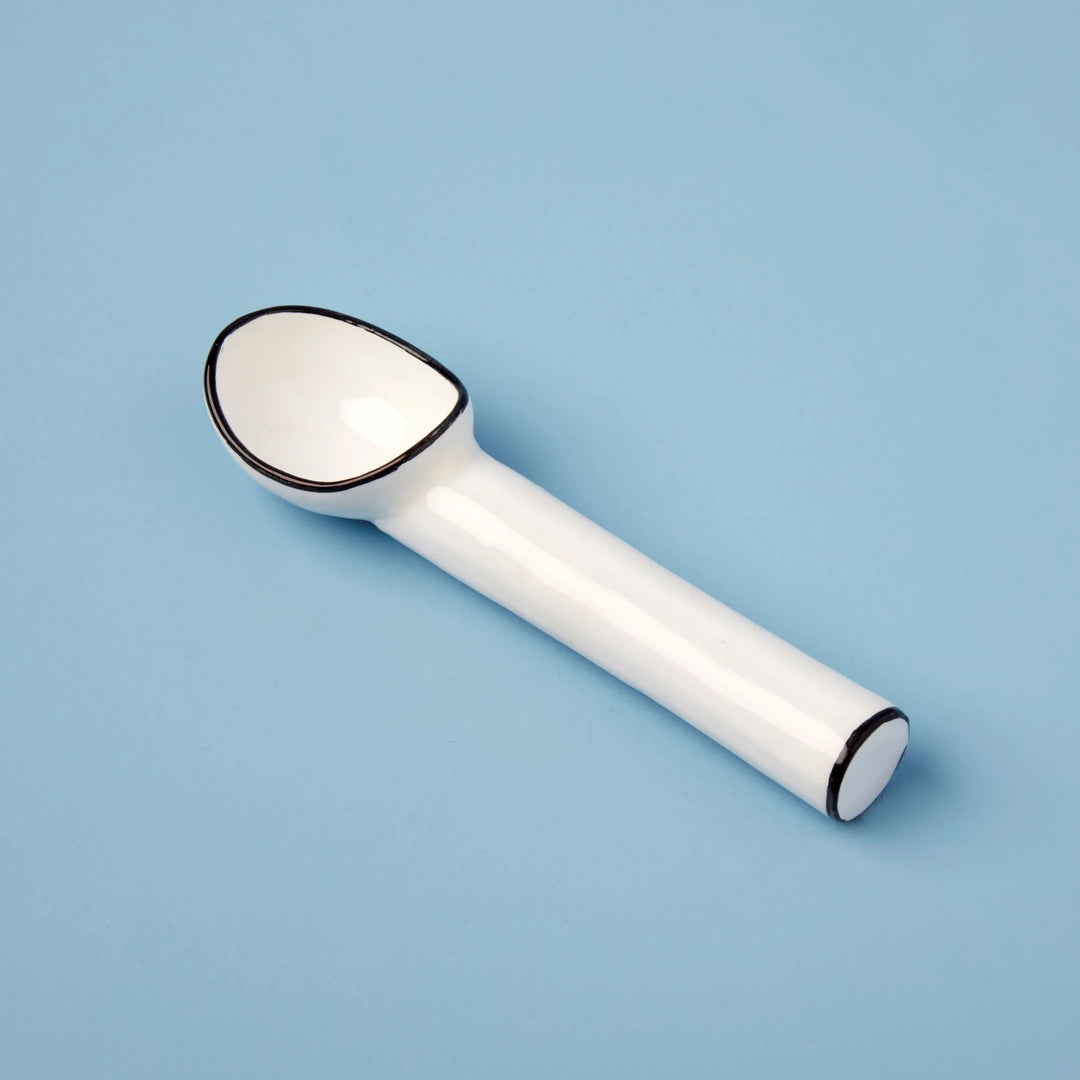 Enameled Ice Cream Scoop
---
In stock, ready to ship

Inventory on the way
I never thought I would fall in love with an ice cream scoop again — yes, there is a story a bit further on — but this one rekindled the scoop romance. First, it's just gorgeous with its shiny white enamel and black trim. Second, and more importantly, it can scoop like nobody's business. The handle is big enough to sit firmly in your hand and the enamel coating lets it slide though the toughest of frozen concoctions.
Pro Tip: You can also run a little warm water over the scoop beforehand for an even easier scooping experience, if that's your thing.
When you grow up in New England, you eat a lot of ice cream*. My grandparents used to even go so far as to keep ice cream outside, nestled in the snow on the roof. In our childhood home, we had two ice cream scoops: One was a "fancy" one that you could press a lever and the ice cream would magically pop out of the scoop; the other was a simple, heavy duty steel scoop with a ridged handle. The fancy one did an okay job, not all of the ice cream came out, and cleaning it was a pain. The steel one didn't have any levers and buttons, but it certainly did make for the perfect scoop of ice cream. Or sherbet. I personally love sherbet and was mocked for it then and still a bit now, but I still stand by my choice.
Made from 100% recyclable aluminum
Food-safe white enamel coating
Lightweight
Measures: 6.75" x 1.75"
Crafted in small batches
Recommended cleaning: Hand wash with a mild soap. Avoid citrus-based detergents or abrasives to keep the unique finish looking shiny. 


*It seems that New Englanders are still eating a lot of ice cream. And New York and New Jersey are keeping the northeast in cream and sugar.